Splat Action Paintball Field
32155 South Grimm Road
Molalla, OR 97038
Clackamas County
Portland-Salem Oregon
Paintball Field
Splat Action Paintball Field is an outdoor paintball field near Portland and Salem in Molalla, Oregon.
Splat Action has been a family owned and operated business since 1986. John Vida started Splat Action with a paintball park near Molalla, OR (a suburb of Portland, Oregon). At that time Splat Action was the only play field (that we know of) in the entire Northwest. Splat Action offers state-of-the-art rental gear.
Splat Action Paintball Field Description

Splat Action Paintball Field is located on 47 acres of wooded terrain, making it one of Oregon's largest paintball field. It is divided into 15 courses that contain towers, bunkers, foxholes, treehouses, tents, streams, villages, target range, and a picnic area.
Field Map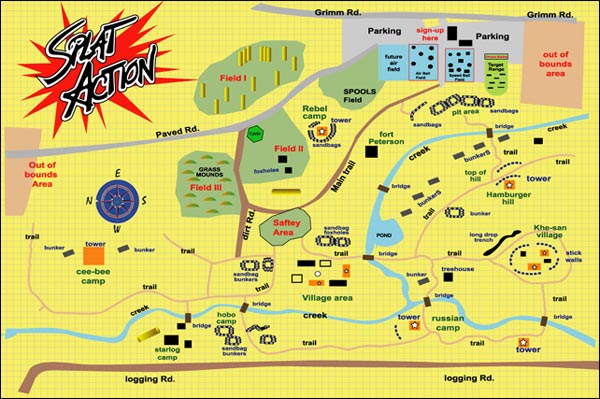 The field map above gives an overview of Splat Action Paintball Field's courses and features.

Spools Field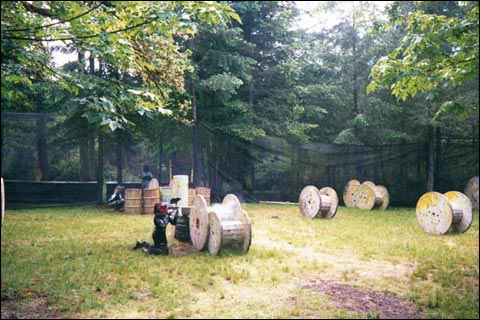 Large wooden spools are placed strategically throughout this paintball course.


Private Groups
You can make reservations for your paintball birthday party, bachelor party, corportate group, church group and more from this page. Paintball at Splat Action Paintball Field is unbelievable fun for birthday and bachelor parties. It is also very popular with church groups. Paintball makes an ideal team building activity for Corporate groups.

Reserserve your group today!
Play at Splat Action
Anyone 10 or older can play (minors need parental consent) and no previous paintball experience is necessary. So just come on out and sign up! For private groups and parties, click here for packages and pricing info! "Walk-On" games are played Saturdays and Sundays from 9-5, with a half-hour lunch. We suggest you wear loose-fitting clothing of heavyweight material for tromping in the woods with. Camouflage or dark-colored clothing is the best.